About CNC
CNC Turning Centre combines high capacity metal removal with high level of accuracy, rigidity and stability. Generally conceived and executed to match any imported machines.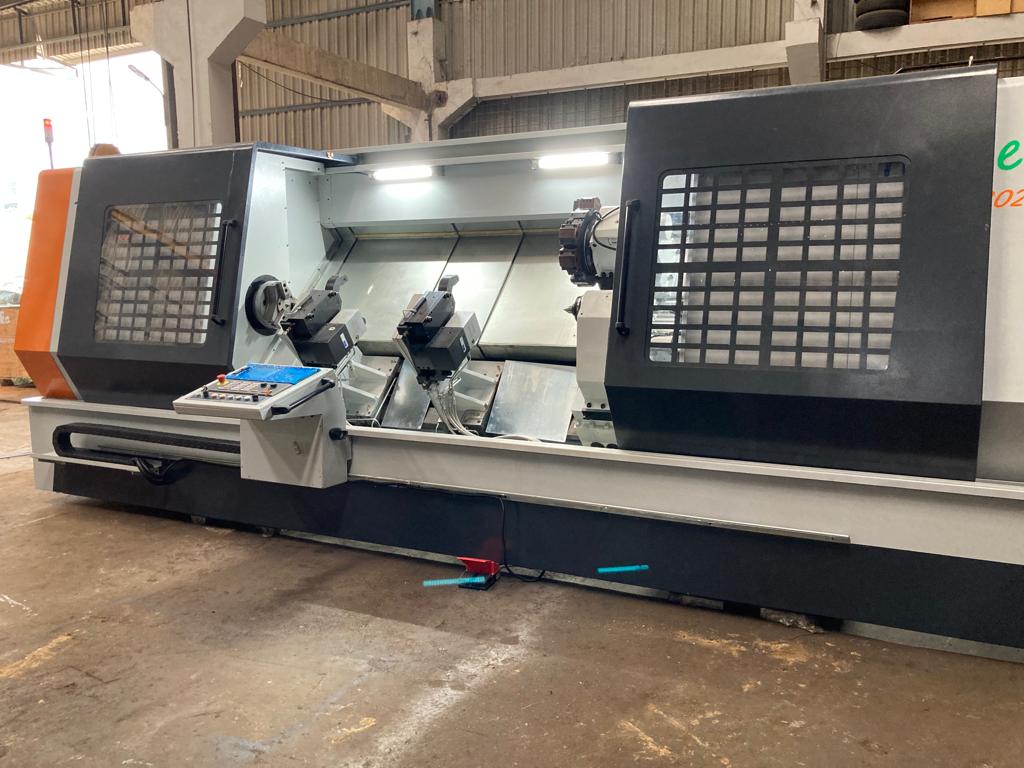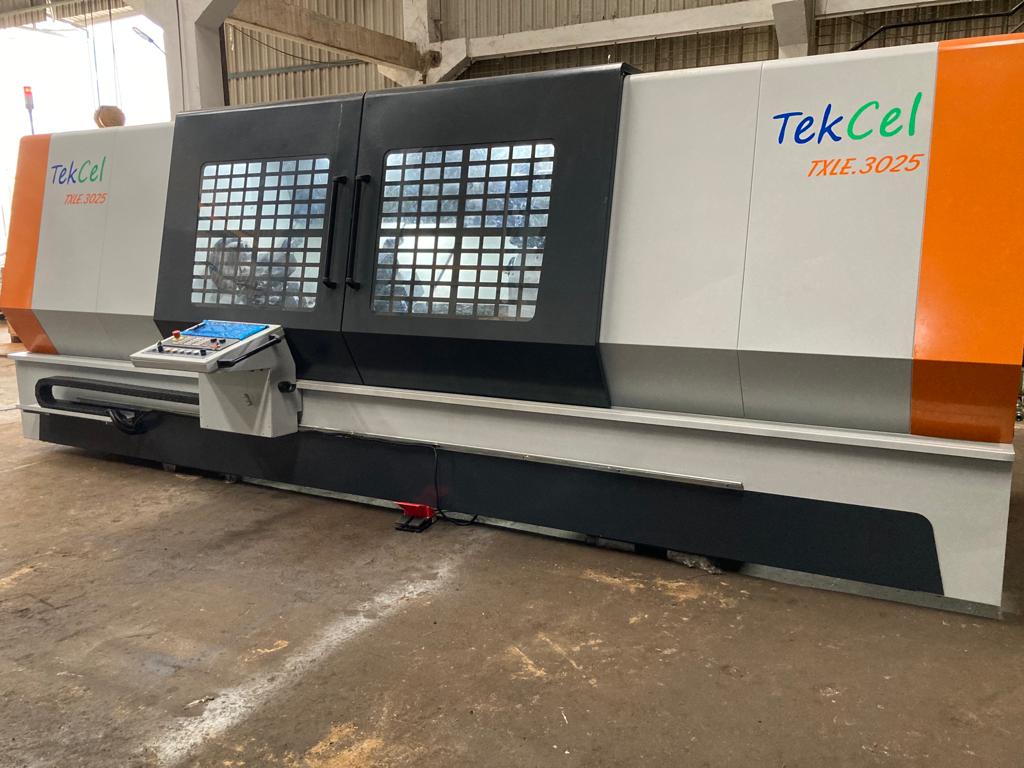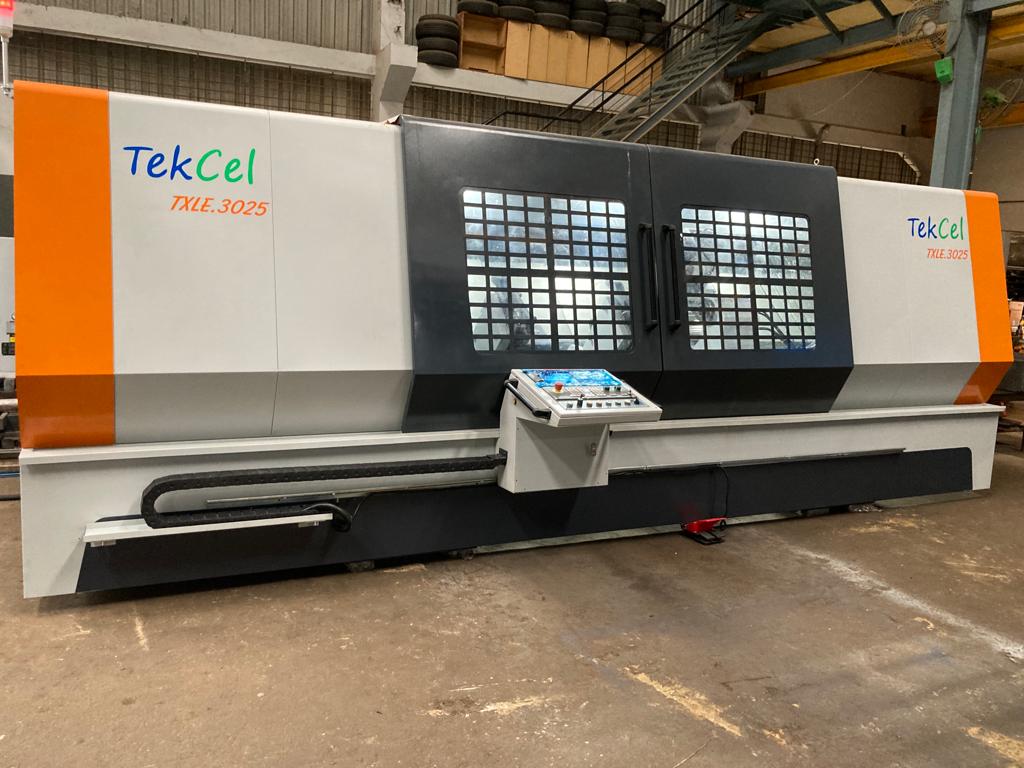 SALIENT FEATURES
45º slant, Torque tube structure poly concrete filled mehanite casting with generously dimensioned hardened ground guideways ensures the best dimensional accuracy and surface finish in normal and hard part turning. The machine is suitably built for hard part turning also.
A215" Main Spindle with bearings from FAG, Germany filled with poly kluber grease for life.
ZARF Axis bearings from INA, Germany for Axis rigidity and high level of Accuracy.
'C0' and "C1", High Precision ballscrews from Tsubaki, Japan for 'X' and 'Z' axis.
Main Spindle drive with High Performance ZF Gear Box and poly 'V' belt for vibration free Spindle running.
Fast indexing large 320 size DUPLOMATIC SERVO LIVE TOOL TURRET with VDI-60 DISC
'X' and 'Z' axis movements by High Performance Siemens 1FT6 motors with encoder on the ballscrews.
SPECIFICATION TXLE-7015
Capacity
Type of Bed : Slant Bed
Swing Over Bed : 250mm to 950 mm
Max Turning Diameter : 250mm to 950 mm
Max Turning Length : 1000mm to 3000mm
Chuck Size : 315mm to 630 mm
Main Spindle
Spindle nose - DIN 55026 : A2-8" / A2-11" / A2-15"
Spindle Diameter : 210 mm to 380 mm
Hole Through Spindle : 75mm to 145mm
Stroke
X Axis Stroke : 200 mm to 560 mm
Z Axis Stroke : 1200 mm to 3200 mm
Type Of Guide ways : LM Guideways / Hardened & ground Rectangular
Spindle Drive : Pulley Reduction / Thru Reduction Gear Box
Servo Motors : AC Servo
Servo Motor Drive : Direct to Ball Screw Thru Flexible Coupling
Turret : 8 Station Pragati Make ( Model : BTP 80/BTP 100/ BTP 125)
X axis Stroke : 550 mm
Z Axis Stroke : 1500 mm
Swing Over Cross Slide : Ø850 mm
Swing Over Tailstock Bed : Ø1100 mm
Admit Between Centre : 1500 mm
Max turning Dia : Ø700 mm
Max Turning Length : 1500 mm
Spindle RPM : 80 – 800 RPM
Spindle Drive : Thru Reduction Gear Box ( Two Stage)
Spindle Taper : A2-8 / A2-11
Spindle Power : 22KW
Type Of Guide ways : LM Guideways / Hardened & ground Rectangular
Ball Screw : Ø40 mm /Ø50 mm Ground Ball Screw
Ball Screw Bearing : Angular Contact Bearing
Tails Stock : Hydraulic Quill with Live Centre ( MT5 Taper)
Tail Stock Positioning : CNC / Manual
Chuck Size : Ø315 mm, 3 Jaw, Hydraulic Chuck
CNC System : Siemens 828 D / Siemens 808
Coolant System : External Coolant System
Hydraulic Power Pack : 30 Ltrs.
Working Pressure : 20 Bar