About TXL Rapid Grind
Five axis CNC Tool & Cutter Grinding machine combines high capacity grinding with high level of accuracy. Generally conceived & executed to match any imported machine.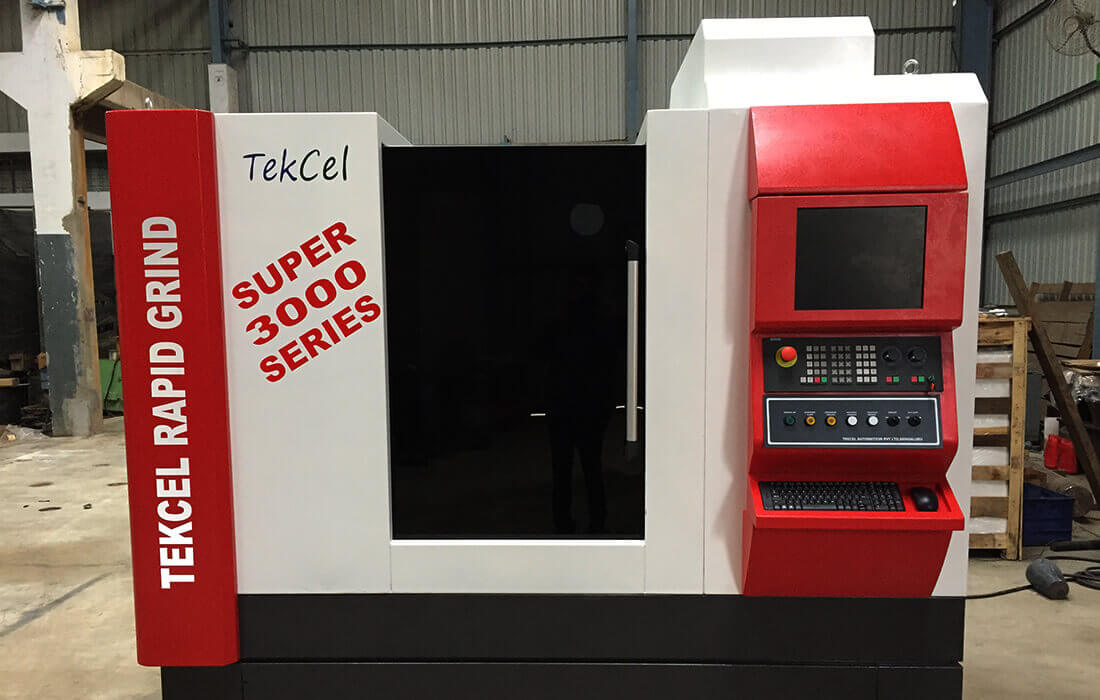 SALIENT FEATURES
Suitable for manufacturing of standard & complex tools such as EndMill, Drills & Special Form Cutters. User friendly menu driven software moudles for easy programming.
Direct driven Grinding Spindle with variable speed & continuous power of 19kw.
Rigid high performance Linear guideway ( With Rollers) from Schneeberger Germany for Linear Axis
High Precision ballscrews from Tsubaki, Japan for 'X' , 'Y' and 'Z' axis .
Rotary Axis with precision wheel & worm from OTT Germany.
Axes movements by High Performance Siemens servo motors.
SPECIFICATIONS TXL - RAPID GRIND
Capacity
Type of Bed : Cast Iron
Max Work piece Diameter : 230 mm
Max work piece Length : 300 mm
Maximum Tool Weight : 20kgs
Main Spindle
Spindle Bore Taper - Manual HSK
Spindle Speed : 9000 rpm
Spindle Power (Conti/30 mins) : 19/38 kw
X Axis
Axis Travel : 600 mm
Ball Screw Dia x Pitch : 40 x 10 mm
Axis Motor Torque : 6 Nm
Rapid Traverse Rate : 10 m/min
Y Axis
Axis Travel : 270 mm
Ball Screw Dia x Pitch : 40 x 10 mm
Axis Motor Torque : 12 Nm
Rapid Traverse Rate : 5 m/min
Z Axis
Axis Travel : 600 mm
Ball Screw Dia x Pitch : 40 x 10 mm
Axis Motor Torque : 12 Nm
Rapid Traverse Rate : 10 m/min
A Axis
Axis Travel : 360 deg
Axis Motor Torque : 6 Nm
Maximum RPM : 30 rpm
B Axis
Axis Travel : -20 to 330 deg
Axis Motor Torque : 8 Nm
Maximum RPM : 10 rpm
Accuracy (As per VDI DGQ 3441)
Positioning Uncertainty (P) X/Y/Z : 0.005 mm
Repeatability (Ps Medium) X/Y/Z : 0.003 mm
Other Specification
CNC System (Controls) : Siemens 840D SL
Total Connected Load : 35 KVA
Machine Length : 2600 mm
Machine Depth : 1800 mm
Machine Height : 2900 mm